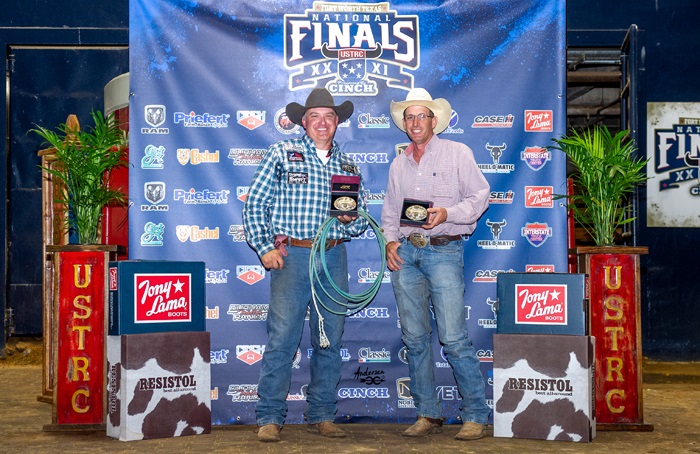 Meant to be: Egleston and Jackson Win #11.5 Legends
The #11.5 Legends short round at the USTRC National Finals XXXI, presented by Cinch, was distinctive for sure. At second call back, David Egleston, Paradise, Texas, and Jud Jackson of Morgan Mill, backed in the Priefert boxes needing a 10.44 to go to the lead. Egleston gave a nod and knocked a good start. A couple of swings and he had the steer hooked. As Jackson rode in and fired his heel shot the improbable happened.
"All I could see was his head turn to the left," Jackson recalled. "I figured it had popped off the horn."
"I knew I had roped him," Egleston added. "Before I knew it the rope was coming back to me. My heart just sank."
However, it wasn't a missed horn—it was a broken one. A re-run was quickly awarded and the pressure that was building multiplied when Egleston's big roan immediately came up sore.
"So much was running through my mind—was I going to have to jump on my other horse, or someone else's," Egleston said. "I'll tell you; I was impressed with the flagger and the line judge. They didn't start hollering or anything. The one guy even picked his hoof for me. Thank you, Jesus, he kind of walked out of it."
Take two. The Texas team made a similar run stopping the clock in 8.07-seconds for a combined total of 35.67 on 4. A no-time for the high call team left Egleston and Jackson in the top position worth $21,540 along with Gist buckles, Tony Lama Boots, Resistol hats and division qualifications to the WSTR Finale.
"It was time to win something," Jackson, who owns and operates The Mill Towing in the heart of Morgan Mill, said. "I've been here three days and hadn't made a short round."
The true hero of this story might be Egleston's 15-year-old quarter Percheron, quarter Thoroughbred, half Quarter Horse gelding, Hondo.
"My wife bought him as a Valentine's day present, and I said, 'You bought a what?'" Egleston laughed. "He was a rescue horse. We got him as a weanling, and I've had him 14 and a half years. He gives his all."
Jackson has been putting his 8-year-old sorrel heel horse to the test, hauling him about 2,000 miles over the last six days and roping dozens of steers. "LB" will be getting turned out to green pastures for the next few weeks and has earned every minute of it.
"I'm going to say this," Egleston finished. "Situations like this can make or break you. When you practice you have to put yourself in high pressure situations. It's such a mental game."

Complete results from the USTRC National Finals XXXI presented by Cinch.