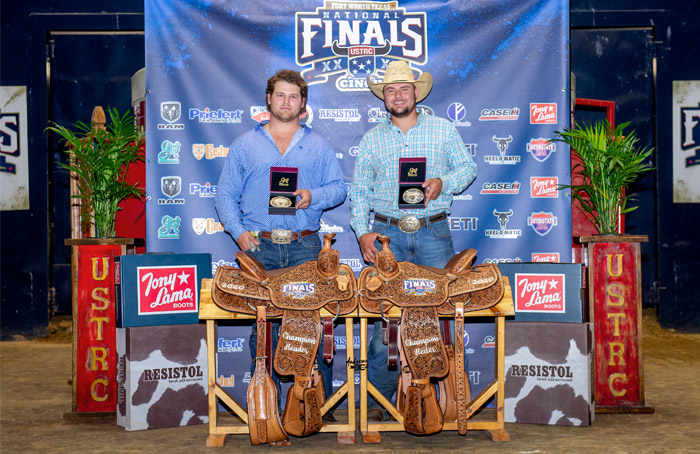 Former High School Football Rivals Top the USTRC's #8.5 Shootout
Michael Beauchamp, of Norwood, Louisiana, and Matt Darden, of Centreville, Mississippi, needed their $27,500 paycheck in hand before they could really let their #8.5 Shootout Championship sink in. From third call back they watched the top two teams fall and their total time of 37.02 on four head held strong during the USTRC National Finals XXXI in Fort Worth.
Beauchamp, 23, and Darden, 24, used to battle it out as rivals on the high school football field and while they've known each other most of their lives it was just recently that they teamed up in the roping pen.
"We used to try and take each other's heads off in high school," Beauchamp, who now works as a Firefighter in Baton Rouge, reminisced. "But even then, we were buddies and we'd get together after games."
Darden has been busy working for his family's dual businesses; Darden Timber and J&M Logging.
"I went to a jackpot Sunday and that was the first time I've roped in a while," Darden, who was in fact competing at his first-ever USTRC Finals, said.
Turning steers aboard Woodrow, a 16-year-old gelding, Beauchamp, too, was competing at his first US Finals event.
"I felt the nerves a little bit," Beauchamp said. "I knew I just had to turn him, and my heeler would get the job done."
Both header and heeler plan to put their money towards land investments.
"I just bought 110 acres and a house," Darden explained. "It will definitely go there."

Complete results from the USTRC National Finals XXXI presented by Cinch.