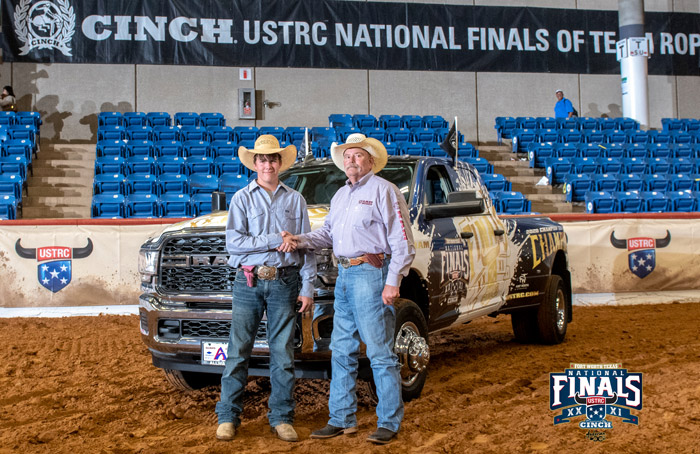 RAM Truck Roping Rounds Out the "New" USTRC National Finals
In addition to a new location and a new date the 2020 USTRC National Finals XXXI presented by Cinch also introduced the new #9.5 RAM Truck Roping. With 981 teams battling it out in the average, and individuals vying for the high point title, it came down to the wire with several ropers having a real good shot at driving home in the trophy RAM 3500 dually truck.
Braxton Ogle, of Mccloud, Oklahoma, was the roper to seal the deal. With a time of 35.02 on four head he finished sixth in the average with his buddy, Dyllan Jones, of Shawnee, Oklahoma. The duo pocketed $4,740 for their efforts. Jones also had a shot at winning the RAM truck but was ecstatic for his partner and celebrated with Ogle, doing interviews and taking pictures, until they were the last ropers to leave the building on Saturday night.
Scott Tiner, of Decatur, Texas, cleaned it up on the back end for him and Ogle to solidify an eighth-place finish in the average. Their time of 35.72 on four head earned them $3,400 and was good enough to keep Ogle leading the high point standings. Combined, Ogle took home $4,070 cash in addition to the high point prize. With a time of 33.32 on 4 head, Brayden Aymond, of Pine Prairie, Louisiana, and Trenton Davis, of Lumberton, Mississippi, picked up $16,280 for first in the average.
Ogle, 14, has only been roping for about four years. Before transitioning into the arena his focus was on baseball.
"I knew I could make money doing it," Ogle, who homeschools through Epic, said. "I had roped the dummy and the hot heels and stuff before. I entered my first jackpot when I was 11."
Ogle kicked off the week picking up a win with fellow Oklahoma Cowboy, Cayden Cagle, at the NRS Jackpots in Decatur. He hadn't planned to rope there but agreed when Cagle asked him to partner up.
"It was only about 30 minutes down the road, so we ran up there for the day," Dee Ogle, Braxton's dad, said.
Ogle was a riding Freckles, a 14-year-old registered gelding, for both of his wins in the Lonestar state. Rewind to some 10 years ago when Dee first purchased the horse as a 5-year-old and oversaw his rope horse training.
"I rode him for several years, but he just wasn't where I wanted him," Dee, who decided to sell the horse to a good friend of his, explained.
Fast forward to four years ago when Ogle made it clear his focus would be in the roping pen. Freckles had always been in the back of their minds, and they reached out to see if they could buy him back. It worked out and the younger Ogle has won just about everything he's won on the horse. The interim owners were watching on Facebook Live when Ogle won the prized RAM truck.
After roping his final steer Ogle waited it out in the stands with his family including; Dee, his mom, Kelli, sister, Jayci, and grandparents, Don and Cyndi. The energy was electrifying when his name was announced, and as the Ogle clan made their way to center stage of the John Justin Arena it re-confirmed why the USTRC made a successful comeback amid the perils of 2020—this is truly America's Cowboy Sport.

Complete results from the USTRC National Finals XXXI presented by Cinch.