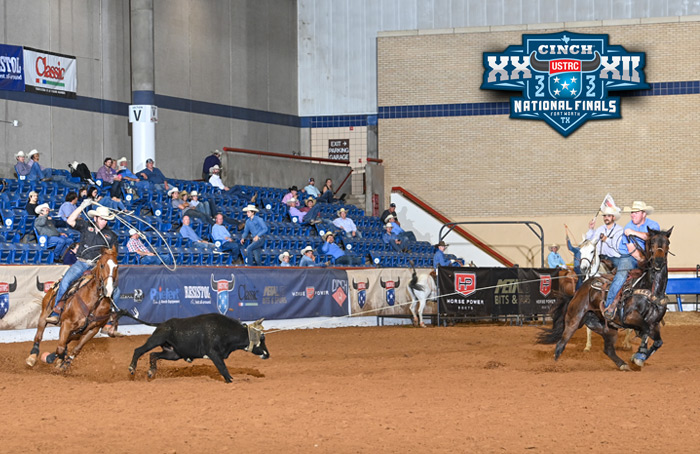 Garcia and Hood Win #12.5 Shootout from Fourth Callback
Jason Garcia, from Clanton, Alabama, and Ryan Hood, from Bonifay, Florida, took home $55,000, Scott Thomas trophy saddles, Resistol hats and a pair Horse Power boots after winning the #12.5 Shootout at the Cinch USTRC National Finals of Team Roping XXXII.
They drew the pup of the herd in the short round and roped the black and white paint steer in 6.91 seconds to move them into the No.1 spot of the roping with a time of 30.15 seconds on four head.
"I saw him, and I knew he was going to be slow if I got out right," Garcia said. "I wanted to push the barrier and set my man up for a good throw. I feel like that's what we put together right there in the short round."
They came into the short round tied for third and fourth with a time of 23.24 with Houston Childers and Adam Toole, who roped their steer in 8.60 seconds and finished third in the roping. Garcia backed in the box with determination to make a solid run to win first.
"I was just going to use the steer," Garcia said. "I kind of had the same mindset every run. When I go in the box I just want to win first every time. I knew that I wanted to put a little pressure on the guys that were coming up behind us."
"It really doesn't matter to me because I'm roping for first," Hood added. "He just gets out and gets it on quick every time. I just throw it down and he pulled them in my loop."
Months prior, Garcia and Hood had a chance to win big at the 2020 Cinch USTRC National Finals of Team Roping XXXI in September and came up short. Hood wasn't going to allow that to happen two years in a row.
"Last year we came here, and I missed my dally to win first or second," Hood said. "I told my wife, 'Second, nobody knows and third nobody thinks about, so I came to win.'"
Garcia, who can usually be caught swinging a heel rope, was heading on a borrowed mount.
"Back home it's hard to go anywhere with an 8+ heel card and I had that lower head card," Garcia explained. "I started back heading a little bit and it's worked out. A real good friend of mine that I've known since I was just a baby owns the horse. I actually rode two different horses out here and he owns both."
Hood was heeling on a 10-year-old sorrel gelding, who put him in perfect position to clean up two feet.
"I got him from a guy back home," Hood said. "My last two horses have come from him. I took a little time off and then everything just came my way. I bought him and we've been getting along fine."
Now with a big chunk of change in their pockets, Garcia and Hood are craving more jackpot action.
"Somebody call my boss and tell him I quit," Garcia joked. "Man, it felt good."
See all the champions for the Cinch USTRC National Finals of Team Roping XXXII