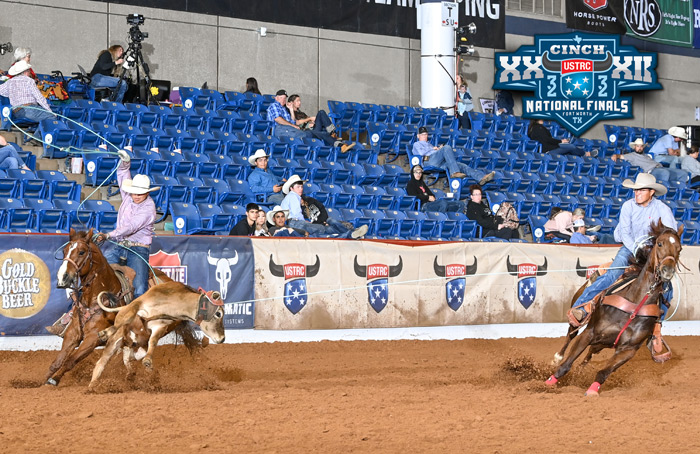 Todacheenie and Lansing Bring Home $50K in the #13.5 Shootout
Jared Wes Todacheenie, Indian Wells, Arizona, and Cody Lansing, Cortez, Colorado, beat out 434 teams in the #13.5 Shootout at the Cinch USTRC National Finals XXXII with a time of 28.85 on four head to bring home a $50,000 paycheck, Scott Thomas trophy saddles, Horse Power boots and Resistol USTRC straw hats.
The #13.5 boasts a large number of teams with high numbered ropers, resulting in a challenging division with a big payout, and it always requires extreme mental prowess down to the wire. When Todacheenie and Lansing rode in at third high call the fourteenth callback was still sitting number one, but the team had a game plan.
"I told myself we've got to be a seven right here, I have to throw it," Todacheenie said.
"I knew he would do his job and all I'd have to do is clean it up," Lansing added. "My game plan on that one was to ride high and kind of step over. I wanted everything to happen out before my eyes and then I would go in. I wasn't planning on going that fast."
Lansing, 19, is currently attending Casper College in Casper, Wyoming, where he's competing on the rodeo team for five-time NFR team roping qualifier and million-dollar career earner, Jhett Johnson. He and partner, Wheaton Williams, are currently sitting fourth in the Rocky Mountain Region in a tight race. He'll head back from Fort Worth to try and secure a spot at the CNFR. Lansing rides a 12-year-old gelding that came from J.D. Yates as a 5-year-old. Registered Red Tag Olena they call him "Red."
"He's the main reason I got two feet four times," Lansing insists. "He just knows his job. He's big, strong, powerful and smart minded."
Todacheenie, 22, has his CDL, is a welder and farrier by trade, and ropes at every opportunity, whether it's at a jackpot or a rodeo. Todacheenie was riding a 4-year-old chestnut mare registered Herman Cat Attack that he calls "KC." Todacheenie and his brother Jaken - who also placed in the #13.5 Shootout - started the mare as a ranch horse and went to roping on her as a 3-year-old.
"I bought her as a 2-year-old," he said. "She's special for sure. She's real quiet and pretty soft so I just try and stay light on her and she just does her thing."
See all the champions for the Cinch USTRC National Finals of Team Roping XXXII