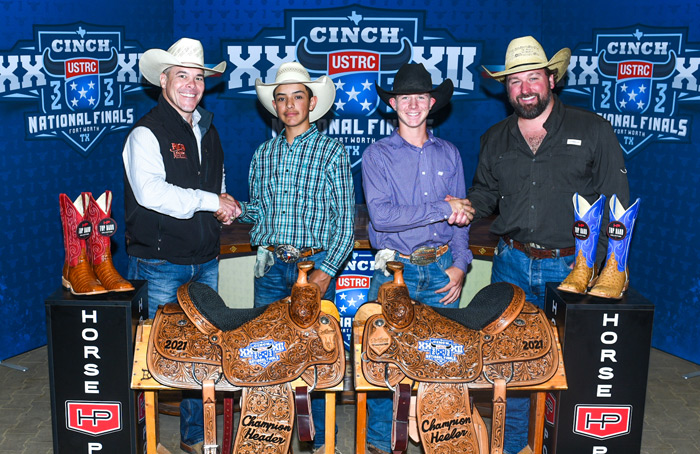 Young-Guns Gonzalez and Frizzell Win Horse Power Boots #10.5 Shootout
Lyvan Gonzalez, Hobbs, New Mexico, and Kelby Frizzell, Sterling City, Texas, won the Horse Power Boots #10.5 Shootout at the Cinch USTRC National Finals of Team Roping from fourth callback with a time of 31.30 seconds on four head, worth $62,000.
Gonzalez, 15, and Frizzell, 14, stunned the crowed in the John Justin Arena after making the fastest run in the short round, a 6.42, moving them to the lead before the final three teams roped. Frizzell was nervous about second call-back, Clayton Houston and Dylan Hancock.
"I was just pretty excited to catch that last one," said Frizzell, who is homeschooled. "I sat by the stripping chute and watched them all. Dillon comes and practices at our house some. He lives about 30 minutes from us. We rodeo together. He ropes really good."
Unlike Frizzell, Gonzalez was more nervous than he let on as he paced back and forth at the back of the arena.
"We came out and he stayed there, and I was headed off," Gonzalez said. "I ran up that ramp and I ran down. I came back and watched high call. They slipped a leg."
Gonzalez brought two heading mounts to the USTRC NFTR and was planning on riding his good 7-year-old bay, Lil Wayne, but after a few runs he made the switch to his 9-year-old back up head horse, Cloudy.
"I was struggling with my good bay and I didn't want to mess up," Gonzalez said. "I knew that I had some good runs left, so I got on the grey and he helped me out. I wasn't expecting to win a roping like this on him because he's just a horse for little jackpots, a backup horse, but he helped me out."
Frizzell had planned on bringing two heel horses, but the night before heading to Fort Worth his backup horse Badger got cut up in the fence. Frizzell rode his main mount, Champ, a 16-year-old veteran for the championship title.
"The horse I rode has always been a winner," Frizzell said. "I was going to bring them both in case Champ got stiff, just something to give him relief."
With this being the largest roping and paycheck, these young guns have won, they plan to keep their money in a safe spot until further notice.
"I'll probably put it in my savings account," Frizzell said.
See all the champions for the Cinch USTRC National Finals of Team Roping XXXII