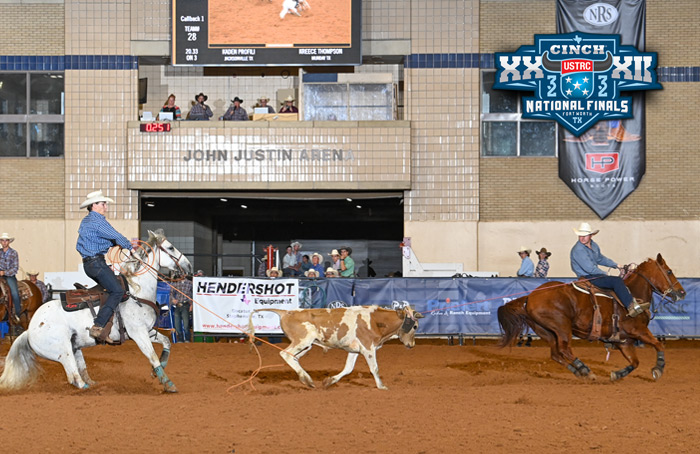 Three-peat: Kreece Thompson Earns Third 2021 USTRC Championship Title in Fort Worth
When you're hot, you're hot and Kreece Thompson is on fire. After winning both the #16.5 Shootout with his brother, Tyson, and the Resistol #14.5 Shootout with cattle contractor, Jeff Hilton, Thompson came back to best the field in the Yeti Junior Open at the Cinch USTRC National Finals XXXII with one of his regular partners, Kaden Profili.
Thompson and Profili roped four head in 27.29 seconds worth $14,500, Yeti Coolers, Horse Power Boot and Resistol Hats. Fresh off a $35,000 win at the Hooey Jr. Open during BFI Week in March, Thompson and Profili are no strangers to the Winner's Circle. And, if this really felt like deja vu, it's because this also marked the team's second USTRC Yeti Jr. Open Championship - they won it back in 2019, the final year the USTRC Finals were in Oklahoma City.
With his three championship titles plus a ninth-place paycheck in the #16.5 Shootout, Thompson headed back to Munday, Texas, to the tune of $43,050.
"I really don't know what is going on," said 18-year-old Thompson. "If I knew, I'd try and be on it a little bit more. It just feels easy, and my partners are roping good."
Profili, too, knows how to win. He had won three trucks with his rope by the time he was 13 years old. Now 19, he is currently heeling for Trinity Valley Community College in Athens, Texas.
While Thompson is still unsure of his plans after high school, he'll certainly continue to spend countless hours in the practice pen challenging his siblings for bragging rights. It was those practice sessions that helped him learn to win and develop his incredible handle on strong, hard-running cattle - his #14.5 partner, Hilton, encouraging ropers to watch how he does it.
"I just try and get down the arena a little bit until I kind of get his head tight and pulled back to me," Thompson explained as he re-watched his short round run from the Yeti Jr. Open. "Once I know he's going to be in tow I can tug back on his head a little bit. I don't want his hips to swing way out past his heel horse because then it makes it hard after that, but I try and make sure he's in tow and round him out a little bit. You've still got to hustle, but it's a different path than some guys go."
Luckily for the rest of the contestants at the USTRC Finals, the Yeti Jr. Open marked Thompson's last roping of the week, but he'll be back in 2022 to defend his three championship titles.
See all the champions for the Cinch USTRC National Finals of Team Roping XXXII