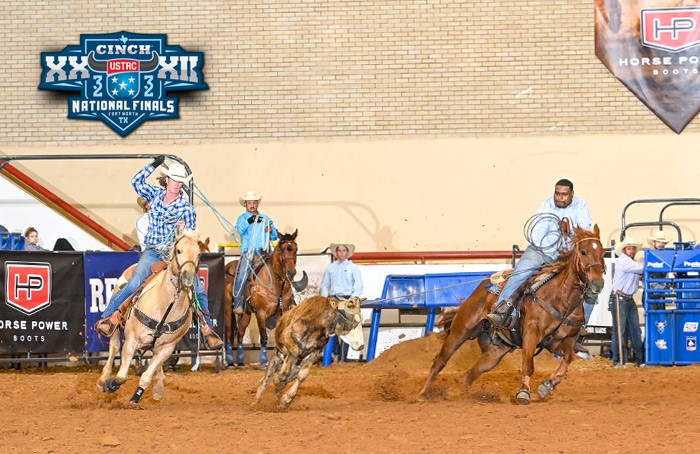 Carthage Cowboys Bring the Heat in the Resistol #11.5 Shootout
Dexter Goodman and Cody Bush, both of Carthage, Texas, are $60,000 richer after roping four head in 29.69 seconds at the Will Rogers Memorial Center in Fort Worth, Texas, during the Cinch USTRC National Finals of Team Roping XXXII. They headed into the short round of the Resistol #11.5 Shootout high call and were nearly two full seconds ahead of the pack. They put together a smoking 7.58-second run after Goodman got out just .0009 seconds off the barrier and they rode away the winners.
"I figured if I safety-ed up I was going to miss," Goodman said of his quick start. Not just that, he had his rope on the steer in two swings. "I seen the cow when he walked in there and I thought he ain't going to leave, but I thought I'm still going at it."
Goodman was riding a 15-year-old gelding he calls Fox, a horse he raised from a colt. He tried to use the stout sorrel as a steer wrestling horse, but it wasn't his calling. Goodman comes from a long line of steer wrestlers out of Beaumont, Texas, and still competes on the rodeo trail. Recently he's found himself turning more and more to jackpot team roping, but it's clear that if there's one skill he's carried over from his main event, it's his phenomenal ability to read the barrier.
"This is my first time at the USTRC Finals," said 36-year-old Goodman, who mostly does day work and cowboys for a living. "I just bought a living quarters trailer, so we'll pay that off now."
On the flip side, Bush has been to almost every USTRC Finals since its inception.
"My USTRC number is four digits," he said. "If there's a roping around, we're going to try and go."
While Bush spends most of his time on his family's 6 Mile Cattle ranch, his 8-year-old heel horse, Pow Pow, is reserved for the arena. The palomino gelding was started in the calf roping and then turned out for a year or more before Bush purchased him. It was another year before they got all of the kinks worked out.
"He's still terrible outside," Bush explained. "Everyone at the jackpots knows him though. They even call me Pow Pow. I've got pistols on my breastcollar. I'll own this horse until he dies."
The ladies in their lives are grateful for the Carthage cowboys' five-digit paycheck. Bush will be getting married in just a couple of weeks and Goodman just got hitched a month ago.
"We've roped at jackpots in the past," Bush said. "We've gotten close and never did any good. Finally, the stars lined up and we got it done."
See all the champions for the Cinch USTRC National Finals of Team Roping XXXII