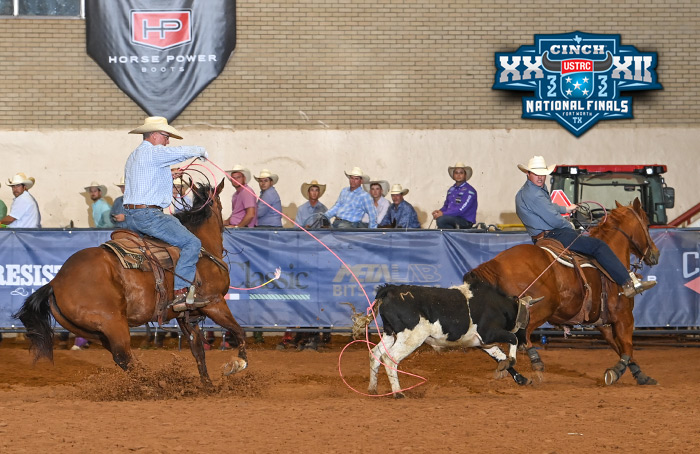 Thompson and Hilton Finish First in the Resistol #14.5 Shootout
The talented up-and-coming header Kreece Thompson teamed up with stock contractor Jeff Hilton to pick up $42,000 in the Resistol #14.5 Shootout on day two of the Cinch USTRC National Finals XXXII in Fort Worth. With a total time of 27.61 on four head they out roped a tough roster in what will likely stand as one of the highest paying divisions of the Finals. Add Thompson's $21,000 to the $14,800 he won in the #16.5 Shootout on Monday - he placed first and ninth - and he's now $35,800 the richer.
"My mom will probably handle that," laughed 18-year-old Thompson who hails from Munday, Texas. "This has been by far my most successful year to date. I've been real fortunate. I've roped with a lot of good guys. It's been a blessing."
Thompson's name has been in the headlines on a regular basis with his recent win at the Hooey Jr. Championships during BFI Week in April with Kaden Profili, not to mention their earlier win at the 2019 USTRC YETI Junior Open, and spoiler alert, they win again in 2021.
In the Resistol #14.5 Shootout Thompson was riding a 13-year-old gelding he calls Dudley, a horse he got from Hilton about five years ago.
"If I remember correctly, he came to try a different horse and it bucked him off," recalled Hilton, who has the Thompson brothers over regularly to help break in the constant influx of fresh roping steers he has at his place in Olney, Texas. "I felt so bad for getting Kreece bucked off I offered him this sorrel. There's no telling what he's won on him, he's done a great job with him. He's one of the best up and coming headers in the business today."
Hilton, who supplied about a third of the cattle for the USTRC Finals also came back third high call with Zane Bruce, but a barrier and a leg would keep them out of the money. When it comes to roping his own steers, Hilton's perspective is different than you might think.
"Most of the time I feel like I have the disadvantage," he said. "If there's one I should have cut off I'll probably get him, and it's usually not a good one. That's just part of it though, you learn to get by what you draw. When you anticipate what one is going to do and then he doesn't do it, that makes it tough. It's definitely better to rope someone else's cattle."
Hilton was riding a 6-year-old own son of Cat Itchi - the sire of performers earning over $6.6 million and standing at EE Ranches in Whitesboro, Texas.
"He started at our house as a cow doctoring horse," Hilton said of "Colorado." "For the last year he's been used to break in steers nearly every day. I told Zane I was going to quit being lazy and that I was going to start hauling him until I could win on him. I've won about every weekend I've been somewhere."
In the short round Thompson pushed the barrier but sometimes you've got to do what it takes to win.
"I know that's how you win first," Hilton said of his partner's aggressive style. "He has to make sure I have time to catch, so I was very thrilled he got out that quick and gave me a chance."
See all the champions for the Cinch USTRC National Finals of Team Roping XXXII