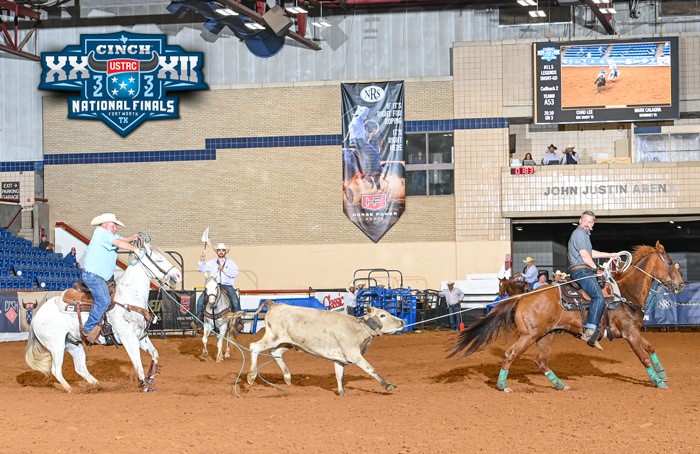 Never Look Back: Businessman and Cowboy Preacher Win $26,000 in #11.5 Legends
Mckinney, Texas, business owner Mark Calagna, and Chad Lee, the preacher of Sit 'em Down Cowboy Church in Big Sandy, Texas, teamed up to win the #11.5 Legends Over 40 roping at the Cinch USTRC National Finals XXXII. The home-state team roped four head in 37.28 seconds to pocket $26,000, Gist Silversmith buckles, Horse Power Boots, Resistol hats and Yeti coolers.
"We were excited to have that opportunity to get in there for the short round," Calagna said - the team coming back an impressive second-high call. "We weren't going to be greedy. It was hey, let's go in here and get us a check, and it worked out we got the largest check."
It was purely by accident that Calagna started roping 10 years ago. He was busy riding Harleys and wake boarding until his wife and daughter decided they wanted horses. He built a barn in Nevada, Texas, and soon had a couple of team ropers stop in.
"I let them use the arena and started watching them," Calagna said. "I fell in love with it."
Calagna was riding a 21-year-old gelding he calls, "Rabbit," because of his narrowly set, pointed ears. It was almost by accident, too, that he acquired his No. 1 steed.
"I had just bought a horse and he crippled at the first roping I took him to," he explained. "A friend of mine said I have this older gelding that I really think you would like, but I don't want you to be scared of his age. I tried him after the roping and had to have him. A little TLC and he backs in there and does it every time. Having a full-time job and working the hours I work, you have to count on those Steady Eddies. He gives me the shot every single time."
For his day job, Calagna owns an interior finishing company that focuses on new home construction largely in the Dallas-Fort Worth metroplex and has been as busy as ever this past year as the housing market has flourished amid an unprecedented pandemic.
"It's taken a lot of people who hadn't put a priority on owning a home and given them the opportunity to go out there and do it," said Calagna, who is a always a believer in forward momentum.
"2020 is over now and I say let bygones be bygones," he said. "The only time I want to be looking back is to be seeing my partner grab two feet."
Lee did just that in Fort Worth, and the heeler also knows a thing or two about never looking back.
"I got involved in the thug life," Lee explained. "I was on drugs for about 14 years. I had gotten divorced and lost everything I had, but God delivered me and called me into ministry. Long story short, I got caught on camera stealing from my dad. He said he was going to get me help, but I turned my life over to Jesus right then and never made it to rehab."
Re-married and serving as the lead pastor at his church in Big Sandy, Lee finds additional solace in the hobby he has enjoyed since his youth.
"I've really gotten back in to roping the last eight years," said Lee, who first met Calagna while he was still in the re-building process.
"When I got saved there were some people at church who worked for a builder and they knew Mark," Lee said. "They took me to his house, and we roped that first day. We started roping at a few jackpots. We've got pictures from some short rounds, but we've never won anything until today. He said earlier, 'I owe you one and you owe me one,' so we made it up today."
"I hear the guys talk about the good old days and how it was," Calagna finished. "So having the opportunity to come here and feel and be in this environment has just been so nice. It's a good family event. Families make that sacrifice and save to come here and do it and they look forward to it and I can feel that energy. Last year was my first year to come and I couldn't wait to get back."
See all the champions for the Cinch USTRC National Finals of Team Roping XXXII