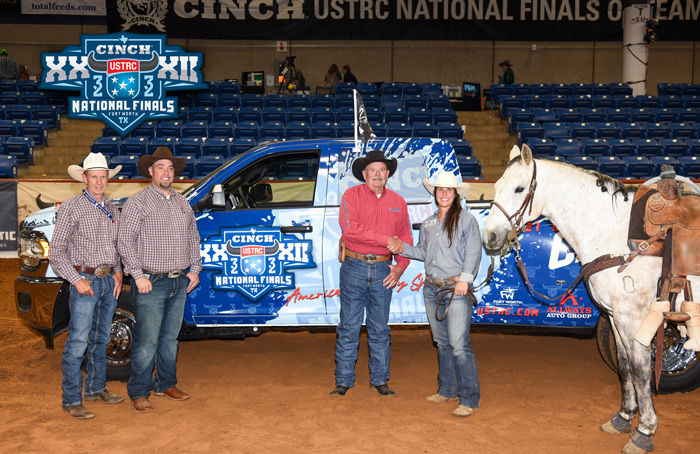 Coffman Drives Off with #9.5 Ram Truck
By happenstance Shaneece Coffman, of Decatur, Texas, who had not planned to enter, entered the #9.5 Ram Truck Roping to help close friends fill their teams last minute.
Coffman finished third with Jose Angel Reyes after they roped four head in 31.57 seconds, worth $7,500, and placed 10th with Brock Rouse with a time of 35.14 seconds on four head, worth $2,000. After minutes of tallying points, USTRC announcer Ferron Lucero announced over the speakers in the John Justin Arena that the winner of the brand-new Cinch USTRC NFTR wrapped truck went to Coffman, who was already walking out of the arena.
"I just can't believe it," said Coffman, who owns Tee Oil Field Services with her husband Jim Coffman. "I had to go loosen my horse and un-boot him. I was headed back and the guy that I roped with was like, 'I think you might have a chance.' I was seriously walking out and I heard 'Shaneece' and he was like, 'Hey, that's you.' And all I could do was scream."
Coffman doesn't take away from the success she had with the help of her heeling partners, but her No. 1 partner she plans to haul behind her new Ram truck is her 11-year-old grey gelding, R U On A Sugar High, "Alpine", who she purchased from 12-time NFR qualifier Luke Brown.
"I've had a lot of horses, but he's special," said Coffman, who headed in the Cheyenne (Wyoming) Frontier Days ProRodeo in 2016. "He's so honest. If I mess up it's because it's 100% on me. He's my baby and he knows it. He has snacks in my rope bag. He was tied up with alfalfa and water all day. We're a team. I can't do without him."
See all the champions for the Cinch USTRC National Finals of Team Roping XXXII