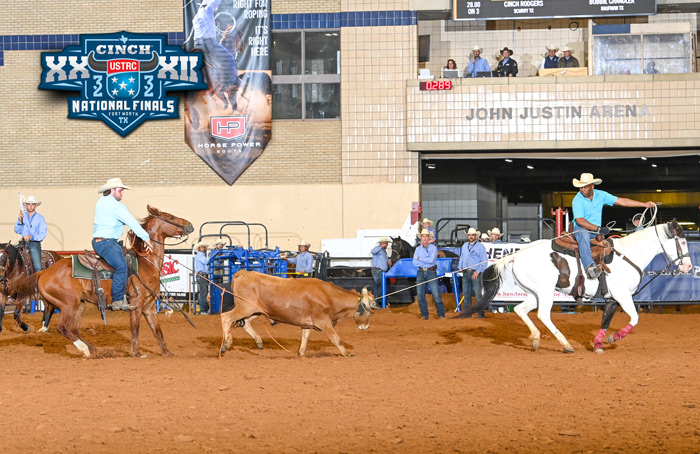 Chandler and Rodgers Secure #8.5 Shootout Championship Title
Bobbie Chandler, Kaufman, Texas, and Cinch Rodgers, Scurry, Texas, got four flags down with a time of 35.97 seconds to win the #8.5 Shootout.
Chandler and Rodgers roped at third callback and got their fourth steer caught in 7.97 seconds, which moved them to the lead of the roping as they rode out.
"We were in the back just listening," Chandler said. "When I caught that steer, I was just happy with that. I wanted to get by that short go steer."
"There was a lot running through my mind," Rodgers added. "I was just hoping for the best and just happy we did what we did."
Chandler rode a 10-year-old paint mare he calls Spotty who is predominately a heel horse, but when Chandler's main head horse came up lame, Spotty got the call to switch ends.
"I raised her and gave her to my son," Chandler said. "She was really a better heel horse, but my head horse went down a couple weeks ago. He's headed on her a little bit."
Rodgers, who enjoys the ranch rodeo lifestyle, heeled on a 9-year-old gelding named Twist.
"We've had him since he was a yearling," Rodgers said. "I sent him off to one of my buddies to ride. He was needing a horse, so he got him kind of broke for me. I've had him since he was about a 4-year-old. I ride him, work off him and ranch rodeo on him."
See all the champions for the Cinch USTRC National Finals of Team Roping XXXII