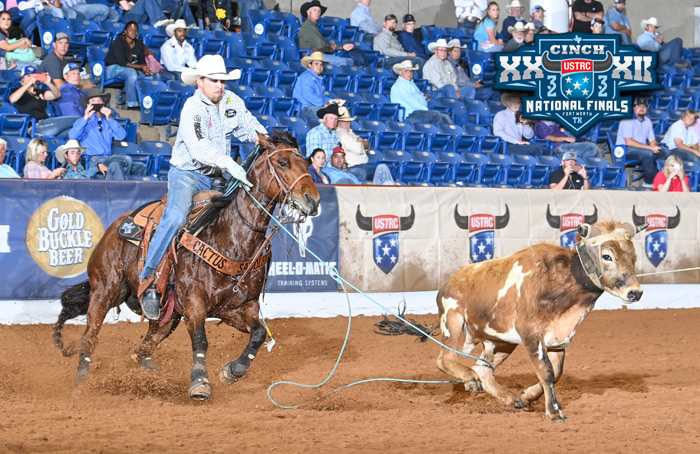 Egusquiza and Lord Land Big Win at the USTRC Gold Buckle Beer Open
Currently the number two header in the PRCA world standings Dustin Egusquiza, Mineral Wells, Texas, teamed up with his second partner, Levi Lord, Stephenville, Texas, at the 32nd annual Cinch USTRC National Finals to top the $10,000 added Gold Buckle Beer Open and take home $50,620. After roping their first four in 26.93 seconds they had a big lead going into the short round at high call.
"I was joking with Dustin usually you need to be a 5.8 to win, not an 8.5," said Lord who finished fourth in the world this year at his first NFR. "It was a little different deal than what we're used to."
"We had a lot of time to win the roping," Egusquiza added. "When you get in this kind of situation it's easy to think about it too much. I was just focusing on getting out of the barrier and getting close so I could handle him good. I almost forgot to rope. I didn't feel like I did the best job, but Levi roped the crap out of him."
Clocking their fifth and final steer in 7.31 seconds gave them a total of 34.24 and the win to take home pockets full of cash, Gist Silversmith trophy buckles, Resistol hats, Horse Power boots and a qualification position into the WSTR Gold Buckle Beer Open to the World in Las Vegas.
The Open marked the start of the second USTRC National Finals held in the Lonestar state. The legacy of the USTRC has played a prominent role in stories like Egusquiza's who finished second in the #15 Shootout in Oklahoma City in 2015 with Michael Bratton worth $54,400 to jump start his professional roping career.
"That was my first big win ever," said Egusquiza, who has since earned three NFR qualifications, finished seventh in the world last year and has more than $600,000 in lifetime career earning. "Winning $30,000 at the time was just crazy."
Lord remembers as a young Super Looper watching with anticipation in Oklahoma City and daydreaming of when it would be his turn to take that victory lap. His 2021 trip to the official Winner's Circle in the John Justin Arena filled the gap.
"It's just as good or better here," Lord said. "I never did win a roping there so to get this one was really awesome."
Lord had two call back in the Gold Buckle Beer Open and secured the fast time in the short-go with his number one rodeo partner, Nelson Wyatt with a 5.34.
"I was actually just trying to get over being bummed out," said Lord who had roped a leg on his fourth steer with Nelson to be about second call back. "I hate to do that. I would have had two
chances right there to win a lot of money and for Nelson to win a lot. All day I tried to take it one steer at a time. I told myself I needed to rope 10 steers by two feet and at the end of the day see where I was at."
Lord was riding a 7-year-old gelding he calls Pauly that he purchased from Paul Eaves right after the Finals and has had success on him at the jackpots since. Egusquiza was riding Mohawk%u2014one of two horses he'll haul to the rodeos this summer.
Egusquiza and Lord will head north to Guymon for the Guymon Pioneer Days rodeo before gearing up for the year's second Bob Feist Invitational and the return of the Reno Rodeo.
See all the champions for the Cinch USTRC National Finals of Team Roping XXXII