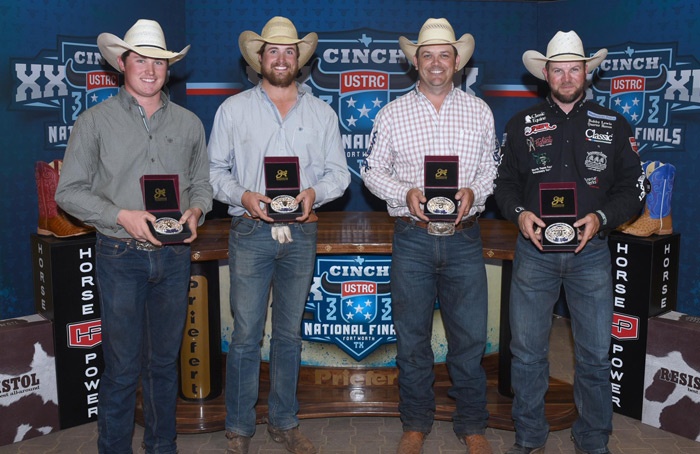 Co-Champions: Hill and Harrison and Thompson Brothers Split Win in the #16.5 Shootout
Kreece and Tyson Thompson and Bobby Joe Hill and Joseph Harrison split the championship title in the #16.5 Shootout at the Cinch USTRC National Finals of Team Roping XXXII after both teams stopped the clock in 26.80 seconds on four head, worth $25,100 per team, making it the only split win in recent NFTR memory.
Kreece and Tyson, who are brothers, came into the short round at ninth callback with a vengeance after roping a leg at high team back in this roping in 2020. They roped their short round steer in 6.01 seconds to move them into the lead of the roping with eight teams left to rope.
"I got a leg last year," Tyson, who is the elder brother by five years, said. "I'm sure glad they had this US Finals as soon as they did so I could have another chance. I knew what this roping was about, and I needed to take care of business."
"I'm just blessed to be here and glad I had someone that heeled good," said Kreece, who most recently won the Hooey Jr. Championships during BFI Week in Oklahoma City in March with Florida's Kaden Profili. The duo also won the Yeti Junior Open at the 2019 USTRC National Finals the final year in Oklahoma City and are backing in the box again this year.
Hill and Harrison rode into the Priefert boxes at second callback and got the clock stopped in 6.95 seconds to tie the Thompson brothers.
"There wasn't a ton of pressure because I was pretty sure Bobby Joe was going to miss," Harrison joked. "I was pretty late and when he did catch it kind of shocked me a little and then I was on the hustle. I just tried to do what I could do. From ninth callback these two punks caught us."
"I knew I didn't have the horse to score them out here, so I borrowed Chad Masters' good yellow%u2014and I borrowed his partner too," Hill said, referencing the familiar palomino, Jimmy, and four-time NFR qualifier Harrison. "Just loping him around in a couple of circles I knew I could catch on him. It's amazing someone who rodeos and jackpots for living will let someone come jump on a great one."
Harrison was aboard Garfield, a sorrel heel horse which was raised by Oklahoma trainer Bobby Lewis. Harrison rode him as a 5-year-old before Paul Eaves bought him and rode him to a number of wins. Madison Bumgarner, the MLB pitcher for the Arizona Diamondbacks, owned the horse for a stint before Harrison got him back through a trade deal.
"I've had him back a couple of months," said Harrison, who plans to haul him as his third-string horse this summer. "For the most part I'm pretty pumped about having him back. I told Chad [Masters] when I got him back, I knew he'd be good about the time he was 9 or 10."
In addition to the $25,100 paychecks, all four cowboys took home Gist Silversmith trophy buckles, Resistol straw hats and Horse Power Boots.
See all the champions for the Cinch USTRC National Finals of Team Roping XXXII