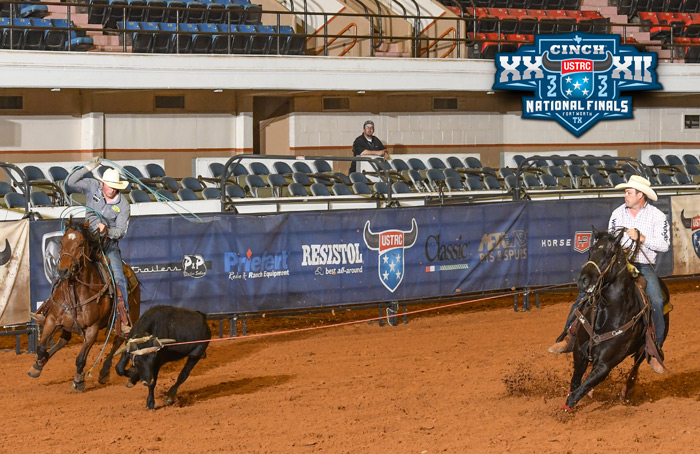 Hill Clinches Double USTRC Championship Titles After Winning the #15.5 Shootout
Bobby Joe Hill of Hill Rodeo Cattle was one of four ropers to take top honors in the #16.5 Shootout during the Cinch USTRC National Finals - Hill and Joseph Harrison splitting the win with brothers Kreece and Tyson Thompson. Fast forward several hours and he would head back to the Winner's Circle at the John Justin Arena at the Will Rogers Memorial Center in Fort Worth, to recap his runs with Colton Brittain in the #15.5 Shootout.
Hill and Brittain were third high callback and laid down a 7.10 second run in the shortgo to finish with a 28.74 on four head worth $33,000, Gist Buckles, Resistol Hats and Horse Power Boots. After roping with Hill, Brittain rode right back in the box with Jason Burson at second high call, but they went out with a no-time. High call did the same.
From behind the Priefert Sports desk Hill and Brittain shared some lighthearted banter with host Dru Stewart as well as the full story on what happened prior to their third steer in the outdoor pavilion arena. Here's a rapid re-cap, but you'll want to hear the story straight from the source here.
Aboard the slick black gelding he borrowed from Clay Smith, Hill found himself high centered on the back of the Priefert box.
"When you are horseback it's a lot higher than you think," Hill laughed. "Mr. Smith, being the nice guy that he is, is just leaning on the panel with his arms crossed while I'm hollering for help. Almost like this had happened before. I told Colton afterwards that we were fixing to go podcast and tell everyone about this. It was kind of a joke, but it turned out I was right."
Once grounded Hill loped him in a circle to make sure he was on all four and backed into the box and they laid down their second fastest run of the roping with a 7.09.
The episode didn't phase the 22-year-old heeler from Rockwall, Texas.
"I never thought about it again," said Brittain, who despite a no-time in the shortgo finished ninth in the Average with Burson%u2014 the division surprisingly paying several teams on three head. "I had faith. I knew he was good."
At the end of day one Hill had won a grand total of $29,050.
"Today has been unreal," Hill said. "Winning back-to-back Shootouts at the USTRC Finals is something that has never been a goal. Heck, I've always just wanted to win one Shootout, but this would have never been possible if two of the best headers in the world wouldn't have let me ride their horses. That would be the PRCA World Champions Chad Master and Clay Smith. I've always been told you can borrow better than you can own."
See all the champions for the Cinch USTRC National Finals of Team Roping XXXII