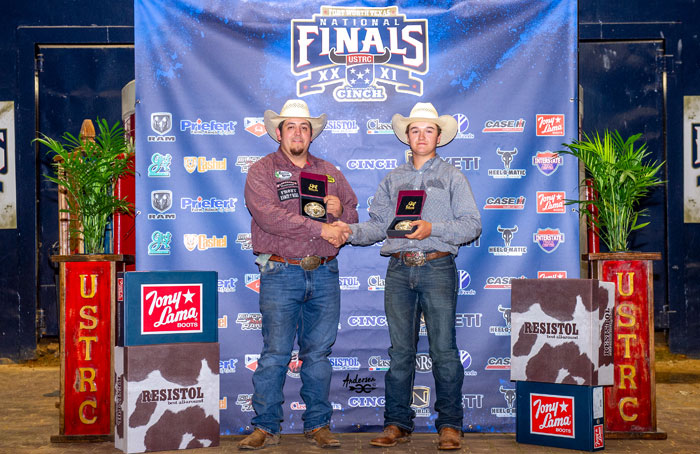 #13.5 Shootout
Kohl Whiteman, of Dike, Texas, and Austyn Ford, of Purvis, Mississippi, took home $39,100 after roping four head in 27.23 seconds in the #13.5 Shootout at USTRC National Finals XXXI presented by Cinch, in Fort Worth.
Whiteman, 29, and Ford, 17, put pressure on first and second callback after stopping the clock in 6.58 seconds to move them into No. 1 of the roping.
"I was honestly trying to get out of the barrier and catch the steer," Whiteman said. "Just use the steer for what he was. We ended up drawing up on the better end of them. I just turned the steer and used him for what he was. He did throw his head up and check off when I headed him. I really didn't know what was going to happen at that point. "
Whiteman and Ford met through their mutual friend Justin Johnson and have only roped a handful of steers together at jackpots.
"We've run maybe ten steers together," Whiteman said. "I don't think we've ever made it past the first round."
Whiteman headed on a tall, 8-year-old streak-faced dun gelding named Hero.
"I haven't had him long," Whiteman said. "He's kind of green to buildings. He's just simple and easy. I got him from a guy out of Carthage, Texas. He came with the name. I called the people that bought him as a yearling and that's what they said they called him."
Ford heeled on an 8-year-old sorrel gelding named Chico, whom he's ridden since the horse was 4 years old.
"He gets better every day," Ford said. "I got him from one of my dad's old roping partners. He let me have him, and then I ended up buying him."

Complete results from the USTRC National Finals XXXI presented by Cinch.