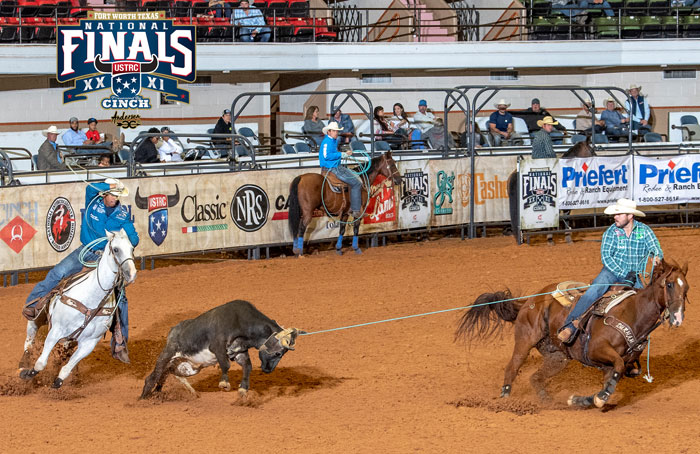 Driggers and Nogueira Clinch Second US Open Title
Kaleb Driggers and Junior Nogueira capped off their 2020 summer season with a win at the USTRC National Finals XXXI's US Open, worth $33,000 for a time of 31.82 seconds on five head in Fort Worth's Will Rogers Coliseum.
Roping as second partners after calling it quits as a rodeo team last year, Driggers, of Stephenville, Texas, and Nogueira, of Lipan, Texas, were high team back after four rounds. They had 7.88 seconds to take the lead in the short round, and they stopped the clock in 6.72 seconds for the win.
"I've had a dismal year, and it hasn't went as great as I'd love for it to go," said Driggers, who at the time of this writing is 20th in the PRCA's world standings and $9,000 out of the top 15 heading for Cory Petska. "It's good to come over here and rebound a little. I'm excited for the win."
"We had great steers, and it's a blessing," Nogueira, who is eighth in the PRCA world standings with $53,080.58 heeling for Cody Snow, added. "It was pretty fair. The steers were bigger and older, and it was a longer barrier and fair for everybody. I didn't rope as fast as I could rope, but I was trying to go through the roping and catch all the steers. We watched the roping and knew we'd place if we did that. We had a good steer in the short round and did a good job."
The US Open has always been sweet for Driggers, who, aside from winning it in 2017 with Nogueira, also won second with Patrick Smith in 2014, second with Travis Graves in 2013 and fifth with Brad Culpepper in 2011. In 2017, the same year Driggers and Nogueira won their first US Open, Nogueira also won the #15 with Cooper Hatley.
Driggers rode a 14-year-old sorrel he calls Dex for the win, a horse he bought from NFR header Garrett Tonozzi earlier this year.
"Garrett had him at least six years," Driggers said. "He got him when he was green and rodeoed on him some. He hadn't been using him much so I hit him up. He fits me. We did good at the HorkDog on him, and he got sore and I had to have surgery on him and I'm just getting him back."
Nogueira won the roping on the same horse he won the 2017 #15 Shootout aboard—Apaches R Hali, the 2007 mare with over half-a-million dollars in career earnings. "Hali," who came from two-time World Champion Kollin VonAhn, split her time between the rodeo road and the breeding barn this year, but it hasn't slowed her down.
"She's phenomenal," Nogueira said. "As a heel horse, she's probably the best I've ever owned. I haven't rode her probably for two weeks. I got home last night, and we were rodeoing really hard. We just flew in at 1 a.m., got up early and loped her a little bit. She's really heavy and she gets really fat easy. I went to my neighbor's house, just loped her around. The first steer, she was really tight. I asked her for more and she came around good. She worked outstanding."

Complete results from the USTRC National Finals XXXI presented by Cinch.