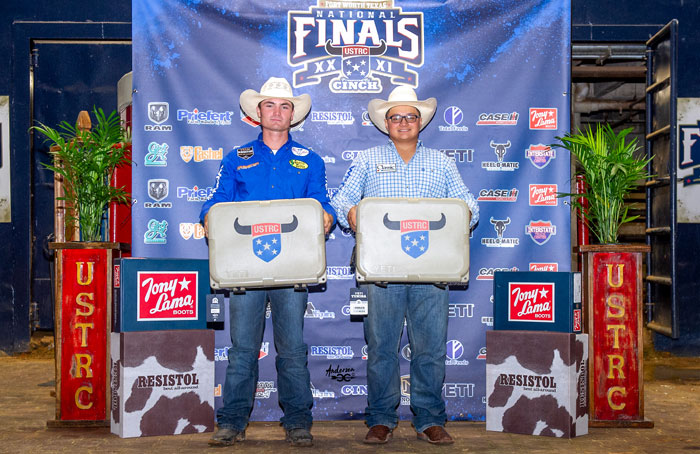 Walters and Gonzales Clinch the Yeti Jr. Open
Riding down the alley to run their first steer in the Yeti Junior Open at the USTRC National Finals XXXI presented by Cinch, Peyton Walters of Justin, Texas, and JR Gonzales of Laredo, Texas, decided they would win it.
"Peyton said, 'We're going to be high call and we're going to win this,'" Gonzales recalled. "Another kid standing there kind of laughed and I was thinking you just watch."
At 19-years-old Walters has had more success in the John Justin Arena than probably any other junior roper—winning the Patriot Young Guns three times. This was his last chance at a prestigious USTRC Junior title as the division required contestants to be 18 or under as of January 1.
With opportunities abounding, the next generation of ropers is poised to break new records and take the sport to the next level. Walters and Gonzales plan to help set the pace.
"The Junior ropings are so tough," Walters said. "It feels good to win this one."
"We weren't really supposed to rope together," Gonzales continued. "I had a kid back out on me and last week Peyton called and asked if I needed another run. Peyton is by far one of the best headers in the youth. He made it real easy for me. I think the future looks really good for us."
In the first round the Texas boys had a few bobbles but they made the necessary adjustments to stay the course. Gonzales was riding a home-raised, 6-year-old gelding he calls Asap.
"I had a pretty big bit in my horse's mouth," Gonzales explained. "He kind of came up on our first run and I almost lost my rope. It felt like too much bit. I told Peyton I was going to go change it out and after he was great."
Walters started on his 6-year-old chestnut, Trapper, but switched to a 14-year-old grey he calls Rolex after their first run.
"I had to reach on our first steer and it just didn't feel exactly right and I decided to make the switch," he said.
After three steers the Texas boys were high call and needed to be a 6.95.
"When we were sitting there, I was thinking, 'He's really calling it, there's no way this is going on right now,'" Gonzales laughed. "That steer ended up leaving hard. Peyton did a great job. He kind of fumbled his dally a bit and I just said, okay stay calm. I just got my timing and rode in there and roped him." With a 6.55-second run they sealed the deal to pocket $16,000 cash along with Yeti Coolers and Tony Lama boots.

Complete results from the USTRC National Finals XXXI presented by Cinch.