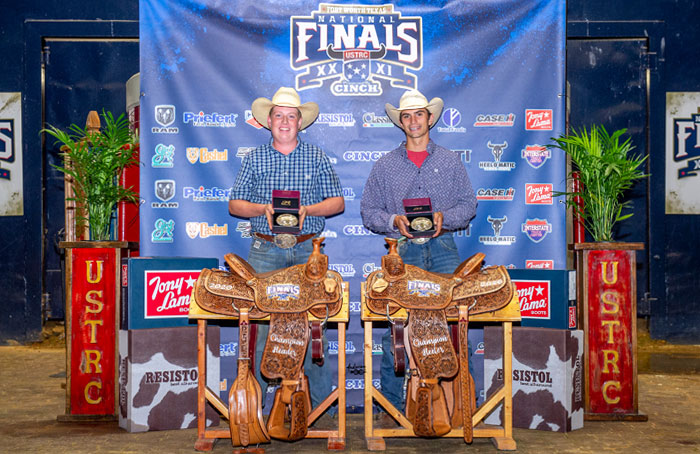 Mississippi Duo Tops the #12.5 Shootout
When the curtain fell on the #12.5 Shootout at the USTRC National Finals XXXI presented by Cinch, Clarke Gordon of Tupelo, Mississippi and Corey Reed of Liberty, Mississippi, were $43,340 richer. When the gates cracked on the Priefert chute at second high call back they needed to be an 8.05 to take the lead. They laid down a run of 8-seconds flat to finish with a total time of 31.75 on 4.
"I didn't know the steer, but I thought he looked good," said Gordon, who most recently won the National Little Britches Finals Senior Team Roping with Ryon Ramsey. "I thought he was going to try a bit. I got a pretty good start and he came around hopping pretty free."
"I got a little tight right off the corner," Reed added. "I made sure I took one more swing and got my separation. I was just happy I did my part."
This is the first US Finals for Gordon and the second consecutive attendance for Reed.
"I'm loving it in Fort Worth," Reed said. "It's a great facility. The arena is great and it's four hours closer."
Gordon and Reed, both 17-years-old, team up at jackpots regularly. Over the 4th of July they topped the #11.5 at the Oklahoma Championships in Guthrie.
"We always place high," Reed said. "He's such a consistent header. I know he's going to run up to the hip and give me a good corner every time."
The blaze-faced head horse Gordon was riding belongs to his 5-year-old cousin.
"We call him Chocolate Chip," Gordon said. "I started riding him before he was my cousins horse. She's kind of picky about him, but she told me I can use him anytime. He's a good horse and I really appreciate them letting me use him."
Reed was riding a 6-year-old mare, Pebbles, which he's been hauling since she was a 4-year-old.
"She's catty and fast," he said. "She's a tropper, I can take her anywhere from the rodeos to the jackpots."

Complete results from the USTRC National Finals XXXI presented by Cinch.