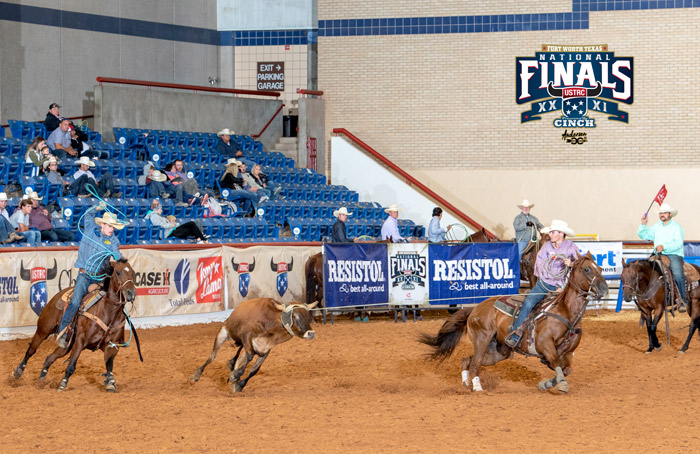 Oklahoma Cowboys Top the Highest Paying Division of The US Finals
Brandt O'Connor, of Altus, Oklahoma and Trigger Hargrove, Elk City, Oklahoma, had to dig deep to top more than 500 teams in the #10.5 Shootout at the USTRC National Finals XXXI presented by Cinch Jeans. It was in the early a.m. hours on Friday, September 11, when they came from third call back to take home the biggest paycheck of the Finals. With a time of 33.20 on four head they pocketed $47,900 plus Scott Thomas saddles, Gist buckles, Tony Lama boots and Resistol hats.
Following their successful short round run in the John Justin Arena they didn't wait around to watch the top two.
"We just started walking off," O'Connor, who is 16 years old and a junior at Blair High School, said. "My mare was kind of squatting in the box, but I got her right and we made a good run. When we heard we won it, I was in shock."
Hargrove, who is the nephew of professional team roper Spencer Miller, won the high point truck at the Original Team Roping Finals in Abilene, Texas, over the 4th of July.
"I haven't won anything since then," said the 14-year-old homeschooled cowboy. However, he has been working hard on his team roping and it's paying off. Last winter he spent several months in California with his uncle during branding season and the two-time NFR qualifier helped him tremendously.
"Every time we missed, we had to do push-ups," Hargrove laughed. "There was one day I did over 300 push-ups.
O'Connor and Hargrove are regular partners at the jackpots and are teaming up at the Oklahoma high school rodeos this year. They will be going in with confidence after securing a prestigious US Finals Shootout title.
O'Connor was heading on a borrowed horse—a 9-year-old rejected cutter he simply calls "Mare." He's been trying to get her bought and should be able to get it done with his prize money.
Hargrove rode his clutch Doc O'Lena-bred mare he calls "Lizzy." He's owned the 12-year-old bay mare for five years now and she's carried him to all of his wins, big and small.

Complete results from the USTRC National Finals XXXI presented by Cinch.