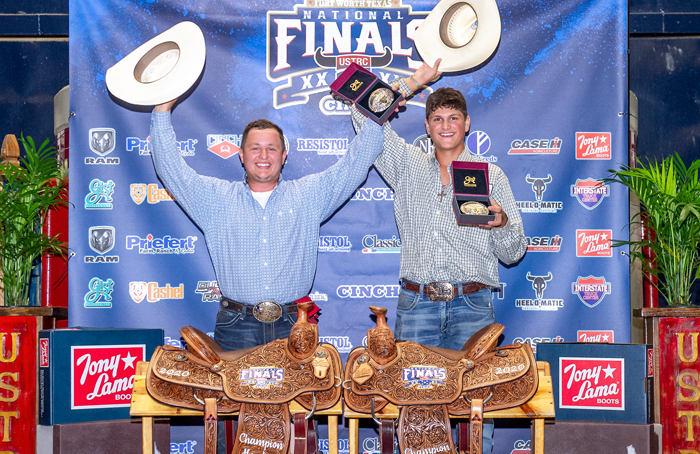 Crone and Franklin Dominate the #9.5 Shootout
Header, Tyler Crone, of Winnie, Texas, has dreamt about winning a USTRC National Finals Shootout his whole life. When he backed in the Priefert box during the 31st—and his first—US Finals with partner, Luke Franklin, of Buna, Texas, they were sitting good enough they could suffer a penalty and still win it. They didn't take any chances though and with a clean run they stopped the clock in 31.20 seconds on four head. They topped the division with a demanding 5.42-second lead, earning $43,440 cash plus prizes.
"Growing up—next to the NFR—it was the next big thing," Crone, who is now 23 years old, said. "For the amateur guy there was nothing bigger than the US Finals."
Not only was this his first trip to the prestigious event, but the Gist Silversmith buckle is also his first USTRC trophy buckle—a huge accomplishments for Crone, who gave up roping for two years to focus on school.
"I knew I wanted to go to Texas A&M," he explained. "I knew I had to get my academics right. We flooded during Hurricane Harvey, so I had to take some time off school for that. When quarantine started and we were doing online school I moved home for the semester. My brother had me out there roping with him and I decided I wanted to get back to it. I have a year of eligibility left, so we're going to rope together at the college rodeos this year."
Crone borrowed a horse from a neighbor for a while but quickly realized he was going to need to go all-in. He found an athletic sorrel gelding on Facebook a couple of months ago and decided to try him.
"I ran six steers," Crone recalled. "I roped three and missed three, and I told the guy I was buying him. I call him "Bob," he's 15-years-old. Honestly, I don't know if he'd ever been to a building before this. I was sitting right behind the box and I could feel his heart beating faster than mine."
Franklin, 16, was also roping on a newly acquired mount. He purchased his 12-year-old gelding "Houdini" about six months ago.
"York Gill trained him," Franklin said. "He can untie just about anything."
Crone and Franklin have been practicing hard the last two months and have placed at almost every jackpot they've entered. They pre-entered the US Finals and roped together in every Shootout from the #12.5 down to the #9.5.
"When I woke up this morning, I just had that feeling," Crone said.
"I knew when we were high call, we had a pretty good chance," Franklin added. "We just let Jesus take the wheel. Tyler roped him fast and I got in time with him going down the pen. As soon as the steer turned, I knew I had him."

Complete results from the USTRC National Finals XXXI presented by Cinch.