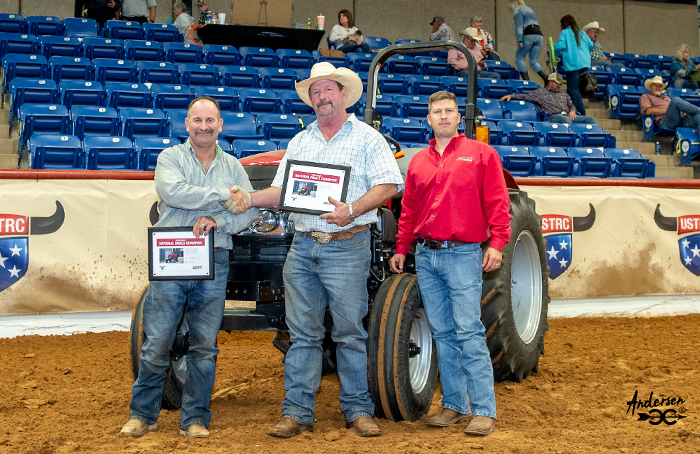 Manore and Goodwin Win Tractors in Case IH #9.5 Legends
Mike Manore, of The Woodlands, Texas, and Ron Goodwin, of Weatherford, Texas, came from seventh callback in the CASE IH #9.5 Legends roping at the USTRC National Finals XXXI presented by Cinch. They knocked out a run in 7.27 seconds in the short round, making them a total time of 38.36 seconds on four head to win the average, worth $20,600 and brand-new CASE IH Tractors.
"We drew the right steer and got out good," Manore said. "It was unbelievable."
"I knew when he got it on him it was going to be good," Goodwin added.
Manore, who owns M&D Sprinklers and M&D Storage, rode an 8-year-old blazed face head horse named Scooby.
"I've had Scooby for two years," Manore said. "When I first bought him, I broke my arm. A cow kicked me right in the arm so then I had to start all over. After that it's been good. I get along with him."
Goodwin, who owns A1 Fleet Solutions, heeled on a 15-year-old bay he calls Kush.
"The little bay horse did his job," Goodwin said. "He came from a friend of mine, Jered Hollaway. He's rodeoed on him. I've got Charly, another backup, and a barn full, but he's the one that when money is down you need to be on him."
This win also qualified Manore and Goodwin to rope in December at the Ariat World Series of Team Roping Finale in Las Vegas—where Goodwin will also be getting married.

Complete results from the USTRC National Finals XXXI presented by Cinch.