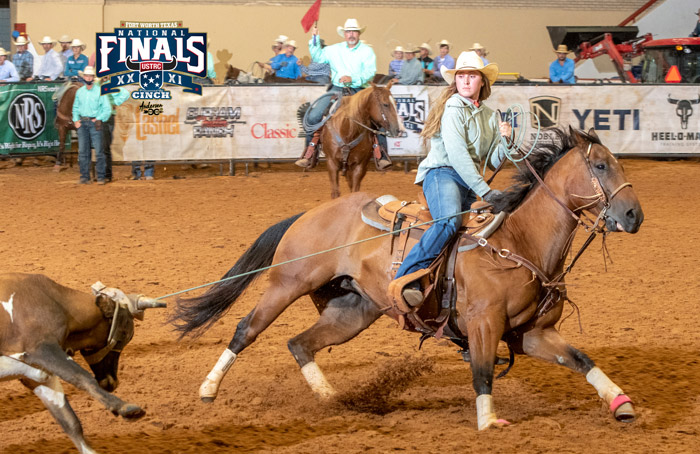 Edens and Taylor Clinch the Cinch Ladies High Money Bonus Awards
As the presenting sponsor of the USTRC National Finals XXXI, Cinch Jeans sought to award an added bonus to the ladies of the sport of team roping—awarding $1,000 in Cinch apparel to the high money lady header and lady heeler of the week in Fort Worth.
On the head side, Jordi Edens, Gatesville, Texas, finished second in the #11.5 Shootout with her hometown partner, Kutter Kortis. The duo roped four steers in 34.10 seconds to take home $33,360 and Edens' split was enough to maintain the leaderboard.
"Usually every time we rope together, we win a little," Edens, who also split $10,800 with Kortis in the #10.5 Shootout at the 2019 US Finals in Oklahoma City, said.
Edens, 18, has quickly made a name for herself as one of the most talented breakaway ropers going down the road as the sport continues to expand horizons on what seems like a daily basis. When she earned $53,200 at the 2019 Komatsu Equipment Days of '47 Cowboy Games & Rodeo presented by Zions Bank in Salt Lake City, the first year they added the event, even she didn't anticipate how quickly breakaway would progress over the next 18 months. While roping calves is her specialty, she comes by turning steers honestly.
"My dad wants me to team rope more than I'd prefer," Edens, who is the daughter of 2007 Wrangler National Finals qualifier, Tommy Edens, said. "I don't practice [team roping] as much as I would like, but I do seem to just grab onto it."
Currently a freshman at Hill College in Hillsboro, Texas, Edens is competing on the college rodeo team in both the team roping and the breakaway, but it's taken her until recent years to really smooth out her crossover between the two events.
"For me, definitely when I was younger, I would struggle getting my breakaway swing back," she explained. "I feel like I've kind of figured it out now—I know my swing and I can feel it."
While working towards a degree in business marketing, and a possible future in real estate, she plans to try and jackpot at the team ropings a little more often.
"I admit, I struggle at the breakaway jackpots," Edens said. "I like to go to the rodeos, especially where it's a one-header, but I do like team roping jackpots. You can win a lot of money there."
Twenty-year-old Caroline Taylor, Canutillo, Texas, switched from her normal position as a header to heel a few at the 2020 US Finals. When she placed in the #9.5 Shootout, with partner Quincy Reeves, Douglas, Arizona, she was the only female roper to pick up a heeling check and it earned her the Cinch Ladies high money award.
At the 2017 Junior National Finals Rodeo presented by YETI Taylor was the only female roper to compete in the 19 and Under Team Roping and finished third in the average with Kyler Bell.
"My parents kept trying for boys, but they really failed at that," Taylor, who is the second oldest in her family, said. "My No. 1 supporter and coach and partner is my dad. He definitely tells us we can do it. I have seven siblings—there's five girls and two boys—and he's never told the girls that we were less than or couldn't do what my brothers could do."
In 2019 Taylor and her dad, Calvin, topped the #13.5 Shootout winning $42,380 turning in a time of 28.31 seconds on four head. Calvin had won two other USTRC Shootouts prior to winning with his daughter, including a win in 1999, when his wife Heather, was in fact pregnant with Caroline.
"He used to always go for himself, but he pretty much gave it up for us kids," Taylor said.
Known in team roping circles as Team Taylor Productions the Taylors produce events at their place in Canutillo, just outside of El Paso, and have supplied sports cattle for other producers for years.
"Learning to drive a semi was the worst mistake I ever made," Taylor, who is also working on getting into nursing school at the University of El Paso, laughed.
With her success heading last year, Taylor hadn't planned to heel in Fort Worth.
"I can't tell you the last time I ran a practice steer heeling," she explained. "Because we produce all these ropings, we break in cattle all week. It's usually me heading and Calvin Jr. heeling. My boyfriend said let's enter the 9 and I had the right horse."
Taylor jumped on her sister Cameille's 11-year-old barrel, pole and breakway mare Rembulleyeya.
"She's a really great little mare," Taylor said. "We call her Quincy Baby. We've probably won $50,000 heeling on her. I thank my sister for letting me borrow her."

Complete results from the USTRC National Finals XXXI presented by Cinch.