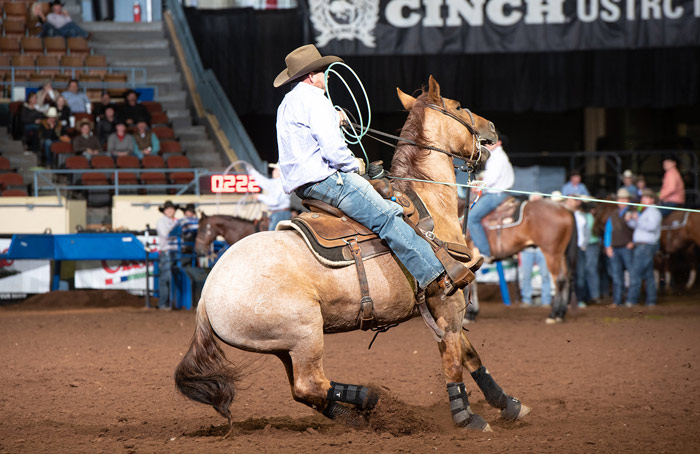 NEW, LOWER FEES IN FORT WORTH
A new date and new location are not the only things that will be new at this years' CINCH USTRC National Finals of Team Roping. One big change are the new LOWER ENTRY FEES and simple entry options. This year there will be NO PENALTY for on-site entry but there are still great discount options if you pre-enter.
USTRC National Finals Discounts

You will be able to use your earned monies through the USTRC qualifiers retroactive from September 2019 and use all the savings from the KEY CARD program that you have enjoyed in the past. The on-site fees will be $300 per roper (unless noted). Ropers can pre-enter the CINCH USTRC NFTR in Fort Worth and take advantage of DISCOUNTED $200 per roper entry fees in those same divisions. However, to take advantage of these pre-entry savings scenarios, you must pre-enter by September 1, 2020.
Here are the discount rules:
• KEY CARD MEMBERS: Early Entry Discounts are unlimited if entry is mailed and postmarked before September 1 (Key Card must be purchased no later than September 1, 2020, and can be paid/upgraded with your entries.)

• USTRC 2019 MEMBERS (purchased at any time in 2019 accumulated earnings count retroactive to September 1, 2019): One discount for winning 1st thru 3rd at USTRC Signature Events (or $1,000 whichever is greater), each $1,000 won at any NFTR Earnings Event and any aggregate check won at the October 2019 USTRC NFTR's Daily Double qualifiers and jackpot events.

• USTRC 2020 MEMBERS: Eligible earnings are based on the effective purchase date of your USTRC 2020 membership. If you were a USTRC member in 2019 your earnings count thru 12/31/19 even if you have not yet purchased your 2020 membership.
You can view your eligible earnings at globalhandicaps.com. See entry forms for additional and complete details. Still have questions? Call the USTRC office at 505-899-1870.