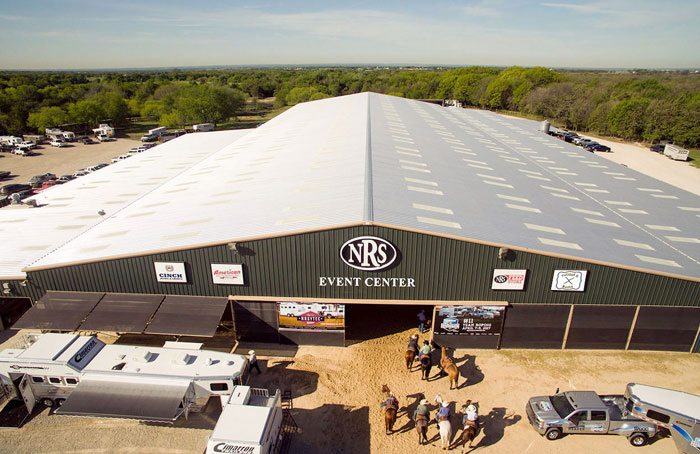 NRS DAILY JACKPOTS
UPDATE 03.18.20: The USTRC Event at the NRS Event Center, April 20-25 produced by Shelley Productions, HAS NOT BEEN rescheduled or cancelled. Please watch for exciting updates to those formats for a great event in April! There will also be NRS Daily Jackpots during the rescheduled USTRC National Finals, September 7-13. Stay tuned for additional updates to that schedule.
One of the most popular features of the CINCH USTRC National Finals in Oklahoma City each year were the daily jackpots at the historic Lazy E Arena. With the move to Fort Worth comes the opportunity for the industry to take advantage of another remarkable facility. New this year, the NFTR Daily Jackpots will take place at the state-of-the-art NRS Ranch in Decatur, Texas. Ropers will compete in every division from the 16.5 down to the #6 NRS Big Buckle Roping. You can view the complete NRS Event Center Daily Jackpot schedule here.
NRS Event Center

Located 4 miles south of Decatur, Texas on Hwy. 287, the NRS Training and Competition Facility is located on the 400+ acre NRS Ranch, just one hour from the DFW Airport and 35 minutes north of the historic Fort Worth Stockyards. Housed under one roof, the event center encompasses a 300′ x 150′ arena with cattle working pens, 56 stalls, wash racks, viewing areas, kitchen, meeting area and much more! Everything is designed and laid out for your comfort and convenience to make your experience the best it can possibly be. Outside, open air stalls and hookups plus a limited number of cabins and bunkhouses are also available if you wish to stay on-site at NRS Ranch during the NFTR. For information and to book your stay visit NRSEvents.com.
NRS Ranch Store

While you are at the NRS Ranch, you won't want to miss the sprawling Ranch Store that carries everything you need from bits and spurs to boots and ropes. You can tour the museum at the store entrance with memorabilia from World Champion Trevor Brazile and Roy Cooper family. Browse through the shop for everything you need for the western life and ranch. Take a free golf cart tour of the ranch at your leisure. It's all there. Explore at NRSRanch.com.
NRS Trailers

In addition to the Event Center and Ranch Store stop in to NRS Trailers where you can browse hundreds of makes and models. NRS Trailers has over 17 acres of in-stock trailers to choose from or you can custom order one to fit exactly what you need. From RV toilet paper to lights, jacks and more, the 5,000 square foot parts & supplies store has what you need. Plus, the 12-bay service center works on all makes and models of trailers. Shop trailers at NRSTrailers.com.