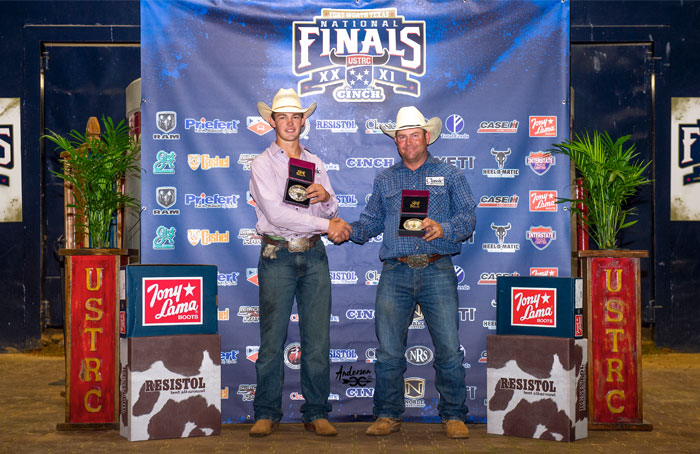 First-Ever USTRC Champions Crowned in Ft. Worth
Korbin Rice tossed his old worn out boots in a dumpster at the Will Rogers Memorial Center and slid into a brand-new pair just a few hours before winning the #16.5 Shootout at the USTRC National Finals of Team Roping XXXI presented by Cinch. Rice, of Hobbs, New Mexico, was heading for Josh Patton, Shallowater, Texas, and the duo etched their mark in the USTRC history books as the first-ever champion team crowned in Fort Worth, Texas. They took home a $20,240 paycheck plus Gist Silversmith buckles, Resistol hats and Tony Lama boots—as it turns out Rice didn't need to purchase those new cowboy kicks after all. Then again, maybe it was a stroke of good luck.
"I might put the pair I bought up on a shelf," he joked from the official USTRC Winners' Circle, "But my old pair was collecting water and they had to go."
In its 31st edition the USTRC NFTR looks a little different—and it's not just because of a world-wide pandemic. With a new location, new dates and a new schedule, ropers have a renewed interest in the sport's OG—the largest continuous team roping in the country. Add on lower entry fees, a 9.5 RAM Truck Roping and the new Select Team Roping Horse Sale, and you have a must-attend event for the whole family. While there is a lot of "NEW" at this year's NFTR, what hasn't changed is the prestige that comes with the title of USTRC Champion Team Roper.
"I'm just thankful they didn't give up," said Patton. "[The USTRC] put a lot into having this event. It's still one of the best ropings of the year."
Two years ago, Rice won the Open Junior NFR Division at the USTRC NFTR with Zant Lewis. It was a memorable win for sure but topping the #16.5 is just a little sweeter.
"There are no limitations in the #16," Rice explained. "You're roping with everyone. It's a lot tougher. The steers were good, and everyone had a chance at winning."
Patton, who owns Wild West Trailer Sales in Lubbock, Texas, has been hitting the practice pen with Rice, now a college Freshman at Cisco College, for years.
"We work on being snappy, making quick snappy runs," said Patton. "We've practiced putting these runs together so many times. It was a little different this year being a 4-steer instead of 5. I think it's tougher. You have to throw down and rope fast."
Patton was riding his favored mount, Sponge Bob, and this marked the sorrel gelding's return performance—he'd been sidelined with a tendon injury since February. Rice was aboard a bay gelding he calls Mufasa. Although he's blind in his left eye, the bay head horse is all there and gives Rice the shot he needs every time.
"Having good horses is key to the game," said Patton. "If you don't have good horses you can't win."
Rice and Patton, aboard their steady steeds, stopped the clock on four steers in a snappy 26.22 seconds to secure the USTRC #16.5 Shootout Championship and make history in historic Fort Worth.

Complete results from the USTRC National Finals XXXI presented by Cinch.