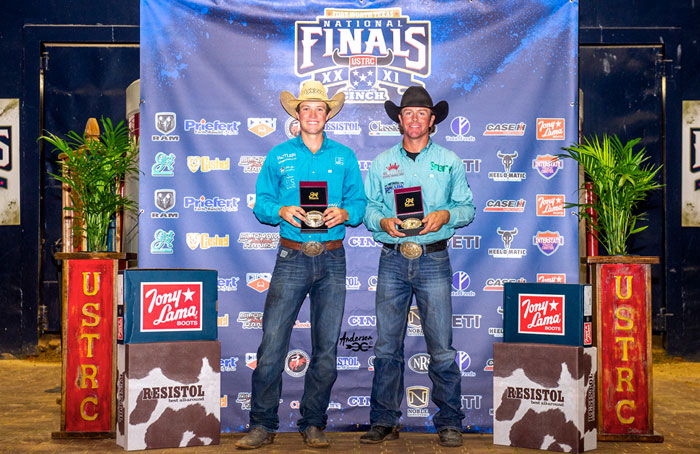 #15.5 Shootout
High school senior, Trevor Hale, and three-time PRCA World Champion Jade Corkill came back high call in the #15.5 Shootout at the USTRC National Finals XXXI presented by Cinch. A smooth finish in the short round gave them a total time of 27.55 seconds on four head, and it was enough to pocket the $24,160 paycheck along with Gist Silversmith Buckles, Resistol Hats and Tony Lama boots.
That smooth short-round run was in spite of Hale's safetying up on the start—but neither Hale nor Corkill were worried.
"It got a little wild on my end," Hale said. "I just wanted to not break the barrier."
"You can only deal with the situation you're dealt," Corkill added. "I knew we'd be in there. I wasn't going to try and do anything to make us win first to not win nothing."
Corkill was rebounding from a bobble of his own earlier in the day, so he was just laser-focused on completing the course. He'd come back third call in the #16.5 heeling behind Blake Barnes, of De Kalb, Texas, when his horse bumped the steer and his rope concurrently broadsided it. Despite losing his stirrups, Corkill still managed to kick up and make one of his trademark heel shots that are just hard to believe. Unfortunately, the bobble cost him and Barnes several holes in the average.
"I knew I was going to miss so I just wanted to take another swing," explained Corkill. "This run here was kind of bouncing back from that."
Hale and Corkill hadn't roped together before the #15.5 Shootout, but they said their success in Fort Worth will help keep them hooked as a team where they can.
Hale won the roping on a 12-year-old gelding he bought from horse trainer Brad Lund.
"Duke is awesome at ropings like this," Hale said. "He's durable and can go all day."
Corkill was on the 15-year-old grey horse he bought from seven-time World Champion Clay O'Brien Cooper last year at California Rodeo Salinas. Corkill aptly named the horse Champ after Cooper.

Complete results from the USTRC National Finals XXXI presented by Cinch.