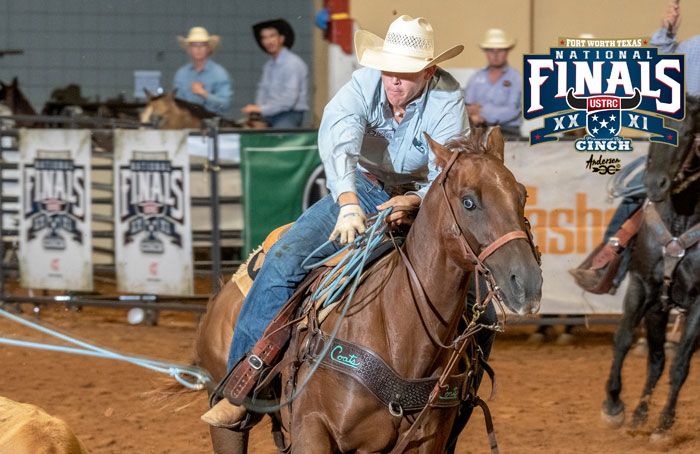 Bluemel and Thomison Cash In Big in the #14.5 Shootout
The last time Cutter Thomison, Hermleigh, Texas, remembers having much luck at the USTRC National Finals was when he placed in the Super Looper Championships at 9 years old. Now, 19, he's playing with the big dogs and proving he has what it takes. Thomison and header, Rowdy Bluemel, Taft, Texas, topped the #14.5 Shootout at the USTRC National Finals XXXI presented by Cinch, to the tune of $31,900.
"It feels pretty indescribable right now," Bluemel said from the Winners' Circle at the Will Rogers Memorial Center in Fort Worth, Texas.
The duo came back high call and with several broken barriers before them they had enough of a cushion to support a safe start.
"We went ahead and acted like it was Cheyenne," Bluemel laughed. "I was way late, but I knew Cutter would clean it up. I just had to do my job."
"I was just making sure I didn't break the barrier which I had done a few times today," Thomison added.
The Texas duo has entered at a few jackpots here and there, but this was the first time they were able to seal the deal. They needed to be a short 9 in the short round to take the lead and an 8.53-second run more than did the trick. They clocked in with a total time of 27.90 on four steers, making it their first official win as a team.
"We're planning on going to some permit rodeos together," Thomison said. "We said after this we'd try and go to some and get a taste of it. We'll see if we want to pursue it or keep jackpotting."
Eighteen-year-old Bluemel is currently in his senior year of high school. He's homeschooling which allows him more time to travel down the road and focus on his roping career. Bluemel is still fairly new to the sport—having started only four short years ago—but he's worked hard and continuously seeks out the help he needs.
"The last two summers I've stayed with Speed Williams in Comanche," Bluemel explained. "At first I just went to go do lessons. I like the way he teaches. He tells you straight forward and that works for me. I've been there about four months this time. Every week I say I'm going home but I'm still there."
Bluemel was riding a stocky gelding he calls Blue—a horse that has helped him win more than $32,000 in the last few weeks—not including the payout from the #14.5 Shootout.
"He's a Dual Rey, but he doesn't look like a head horse," Bluemel said. "I got him from Speed. He's got that cool blue eye, that's where he got his name."
A farrier by trade, Thomison called on his 9-year-old grey gelding Shorty.
"He makes it pretty easy," Thomison said. "I've got a grullo I ride a lot. He's the horse everyone knows runs by the corner. I think I have him about fixed of it, but it still happens from time to time. I rode him in the other ropings today, but I think I made the right choice for this one."

Complete results from the USTRC National Finals XXXI presented by Cinch.