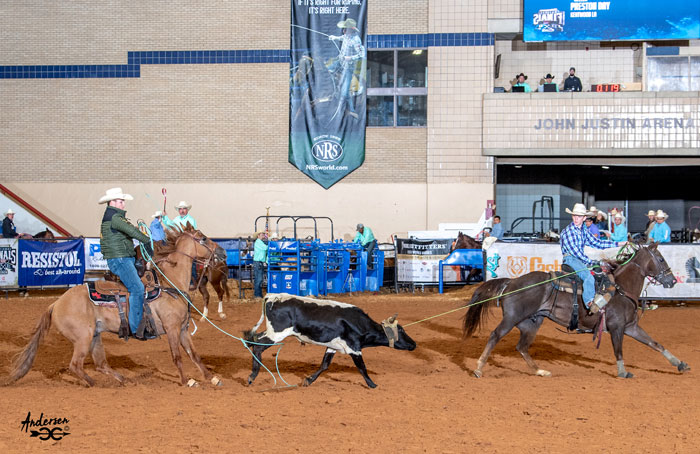 Southeast Cowboys Cash Big Checks in Resistol #11.5 Shootout
If you check through team roping's record books, the name "Waylon Buskirk" doesn't show up anywhere until the spring of 2020. The 15-year-old farm kid from Shannon, Missouri, has been roping cows in his family's pastures as long as he can remember, but the team roping bug just bit him two years ago.
"This the first US Finals I've come to," Buskirk, a high school freshman, said. "I just started and didn't quit and kept going with it. I live on a farm, and I just started team roping. I never done any roping before that."
So when Buskirk backed into the box high-team back in the Resistol #11.5 Shootout heading for Louisiana college rodeo standout Preston Day Sept. 10 in Fort Worth's John Justin Arena, he had some first-time nerves shooting through his veins.
"I was thinking just see him move, and go catch," Buskirk said.
Even though Day is a regular at all of John Johnson's JX2, USTRC and NTRL ropings and has roped at one prior US Finals, he too was feeling the energy going into the short round.
"I don't hardly get nervous, but I was nervous a minute ago," Day admitted after picking up his Scott Thomas Saddle, Gist Buckle and certificates for new Tony Lama Boots and a Resistol hat. "I walked in 20 minutes before it started and stood in the corner until it was our turn. I was just thinking DON'T MISS."
They had over 9 seconds to rope their last steer and stopped the clock in 8.76 seconds halfway down the pen, finishing the roping with a time of 33.78 seconds on four head worth $43,200.
"That's a lot of money and it will buy a bunch of cows," Day, who attends Pearl River Community College and wants to be an auctioneer, said.
Day was a riding an 11-year-old Peptoboonsmal-bred gelding he calls Hotrod.
"He came from a buddy of mine, Cody Warren," Day said. "I bought him a year ago from him. He couldn't ride him as good as I can so that's why I got him."
Buskirk, for his part, was on a 15-year-old mare with a lot more years' worth of experience in the arena than he has.
"She ain't really got a name," Buskirk said. "I call her Red. She's a sorrel horse. She's got papers, and I can't remember where I got her from."

Complete results from the USTRC National Finals XXXI presented by Cinch.